(2) Wands & Bubble Kit (blue) 3-foot & (green) 2-foot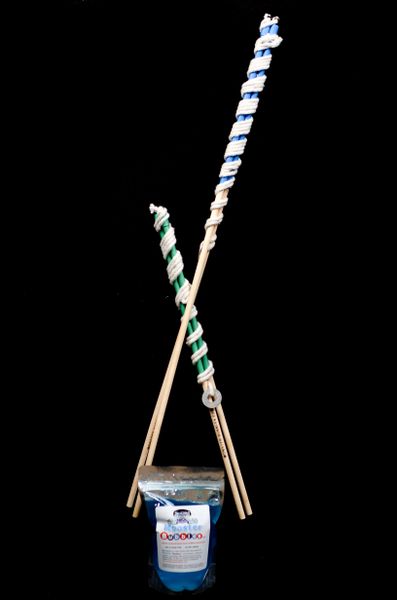 (2) Wands & Bubble Kit (blue) 3-foot & (green) 2-foot
Overlength )30 inches and longer) packages are now shipped via UPS.

This Monster Bubbles kit includes a 13 ounce pouch of Super Concentrate Soap Bubble Solution.  Mix with a gallon of soft, or distilled water to make over a gallon of bubble solution.(2) Monster Bubbles Wands: 

(1) 24-inch wand, made with 3/8 inch sticks (perfect for smaller children}                                                                                                                     

(1) 3-foot wand is now made with 1/2 inch sticks (capable of making BIG bubbles)
 These wands have plastic grips and 10.5 inch plastic sleeves that keeps the dowels from swelling when left in bubble solution.  Wet wand strings can also be wrapped around the plastic sleeve without harming the wood dowel.