9-Loop Sawtooth (gray) 6-Foot, 2-Piece Wand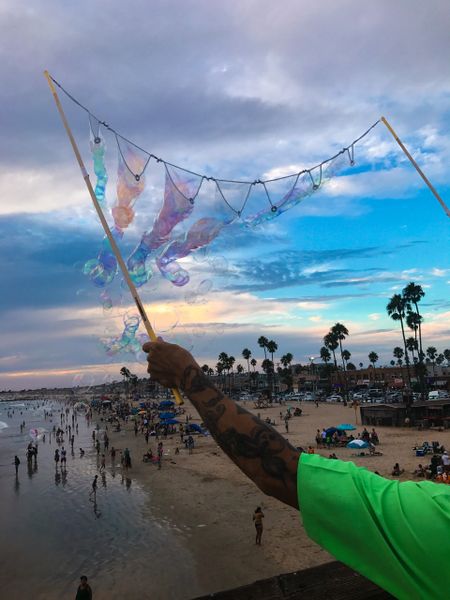 9-Loop Sawtooth (gray) 6-Foot, 2-Piece Wand
Overlength (30 inches and longer) packages are now shipped via UPS. 

The new 9-Loop Sawtooth, 6-foot wand is capable of making hundreds of basketball-size bubbles!  Each of the 9 loops have a stainless steel washer and ball bearing swivels are used between each loop, to help keep the strings from twisting together.  The wand is made with (4) 3-foot, 1/2 inch Birch dowels.  This is a "fishing-pole" style wand.  The sticks are joined together by using 1/2 inch plastic connectors and the wand is easily assembled, or taken apart.  The wand tips are 1/2 inch plastic end caps, that hold the highly absorbent string.  The wand has plastic grips and 10.5 inch plastic sleeves, that keeps the wood from swelling when left in the solution, or when wet strings are wrapped around the sticks.  This wand works best with a good breeze and is a crowd favorite!  
This is a BIG wand and is not for small children.....I often tell my customers, "it's for bubble performers and show-offs!"  It's my favorite wand in a favorable wind!